Epoxy Paving Joint Mortar
for light to medium traffic loads
For natural stone, reconstituted stone and concrete block paved surfaces on patios, paths, driveways, commercial areas and other hard landscaped surfaces with joints wider than 5 mm.
fast, durable and cost effective
easily flow-applied
self-compacting
low temperature application (min. 7°C/44,6°F)
can be applied on wet/damp surfaces
clean, stain free surfaces
optimum strength correlation
water permeable
mechanical sweeper resistant
abrasion resistant
forst and de-icing salt resistant
no weeds or boring insects
environmentally friendly
| Colours | Sample | Packaging | Article-no. | Packaging | Article-no. |
| --- | --- | --- | --- | --- | --- |
| natural | | 25 kg | 800002.825 | 40 kg | 800002.840 |
| sand beige | | 25 kg | 800007.825 | 40 kg | 800007.840 |
| stone grey | | 25 kg | 800003.825 | 40 kg | 800003.840 |
| basalt | | 25 kg | 800004.825 | 40 kg | 800004.840 |
Examples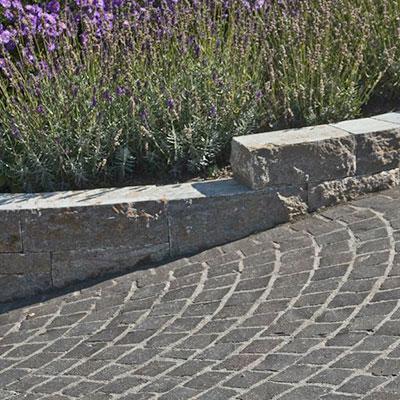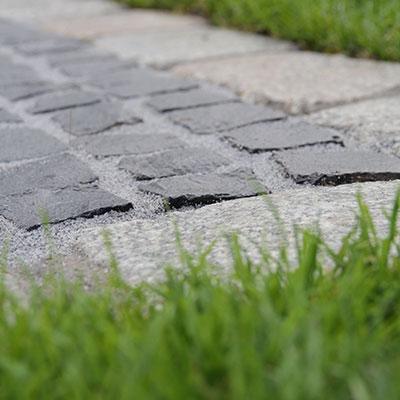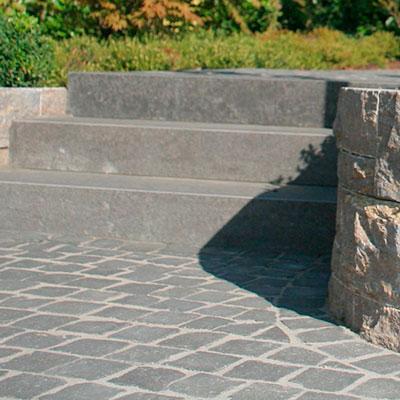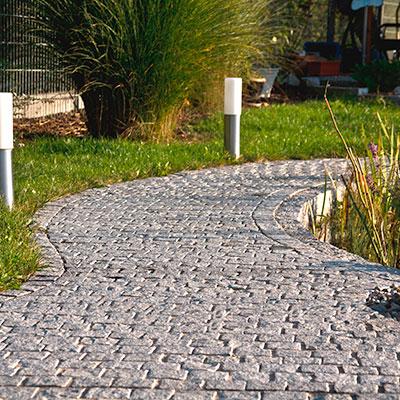 Application


Site requirements:
A stable, load-bearing structure, a permeable sub-base and the paving layer correctly installed for the anticipated traffic loads, joint depth: > 30 mm (in areas of vehicular traffic the total height of the bedded paving units), joint width: > 5 mm, ambient and material temperature min. 7°C, max. 30°C.
Tools:
A compulsory forced action mixer or a drill with twin spherical mixing paddles for smaller projects. Water supply, a hose with spray nozzle, a squeegee and a coconut fibre brush.
Preparation:
Clean the surface of all dirt, cement residues, organic materials or any other contaminants.
Test area:
On some reconstituted or sensitive natural stone paving, the vdw 800 binder contact can make the stone appear darker or to have a 'wet look'. In general, the product should be tested first.
Prewetting:
Fully saturate the paved surface before starting the application.
Mixing:
Mix the vdw 800 resin coated aggregate (component A) materials, and add vdw 800 liquid hardener (component B) from the bottle in the bucket. Then add a quantity of clean water equal to double the quantity of the liquid hardener (use empty component B bottle as a measure), and mix to achieve a fully homogenous consistency. Mixing time between 5 - 8 minutes
Filling the joints:
Spread the mortar across the pre-wetted paving surface using the rubber squeegee and work thoroughly into the joints.
Brushing off:
After approx. 15–20 minutes (at 20 °C) remove any excess mortar completely by using a damp coconut fibre brush. Frequently clean this brush in water. Avoid washing material out of the joints. Do not brush any residual, cured mortar into any unfilled joints.
Aftertreatment:
Cordon-off and protect against humidity for at least 12 hours (do not place the covers directly onto the paving and ensure that the air can freely circulate over the surface). The area can be fully opened for use by vehicular traffic after 7 days.
Anyway, please follow our detailed technical hints for the application of our products which are available free of charge. Subject to technical changes. When in doubt, please contact us. Our general conditions of sale apply.