StoneProtect Plus 3 in 1
water based impregnation
vdw 950 StoneProtectPlus 3 in 1 is a ready- to-use, water based impregnation for the hydrophobic (water repelling) and oleophobic (oil repelling) treatment of natural stone and other porous paving substrates. Can also be used to reduce any residual binder lm on sensitive paving from pointing.
For natural stone and other paving substrates
Grouting relief for subsequent jointing with resin binder
Hydrophobic – water repellent
Oleophobic – oil repellent
Reduces staining and contamination for easy care
Vapour permeable
Solvent free
Quick drying
Suitable for use on sensitive stone before pointing to reduce staining
| Appearance | Packaging | Article No. |
| --- | --- | --- |
| transparent, slightly yellowish | 1 litre bottle | 950 001.801 |
| transparent, slightly yellowish | 5 litre can | 950 001.805 |
Application examples vdw 950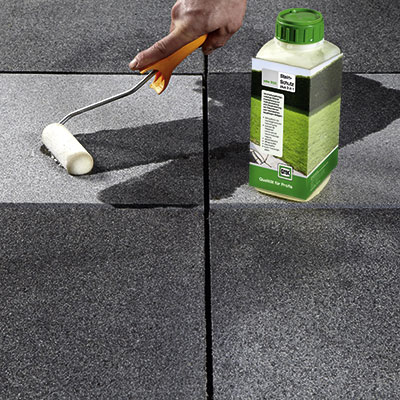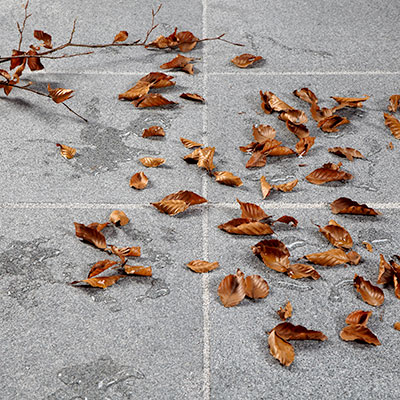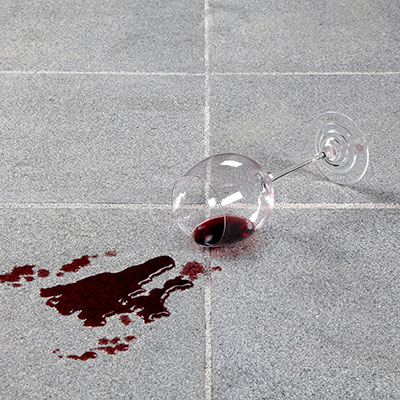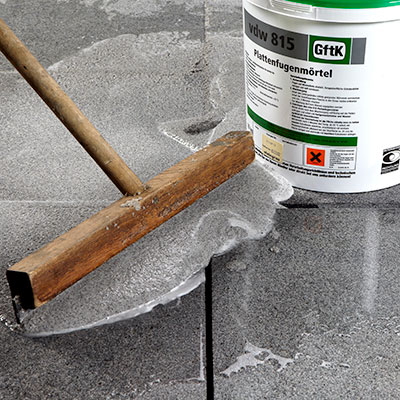 Application
Characteristics: vdw 950 StoneProtect Plus 3 in 1 can be used on many different types of natural stone and other porous paving materials. It reduces the absorbency of the treated paving and largely prevents water, oil and grease pene- tration. Any spillages or contamination remains on the surface and the area is therefore easier to clean. The colour of the paved surface is not signi cantly changed, if at all, although a few very sensitive substrates may look darker. Always apply a test area rst!
vdw 950 StoneProtect Plus 3 in 1 must not be used on areas already pointed until any residual binder has completely weathered away.
Requirements: A clean and dust-free, structurally sound, absorbent and dry paved surface which is otherwise ready for pointing; or with pointing that is fully cured and has no residual binder on the surface. Ambient and surface temperatures minimum 10°C/50°F, maximum 25°C/77°F, with dry weather conditions and no rain or heavy dew forecast for at least 24 hours.
Tools: Brushes, rollers or low pressure sprayers, plus sponges to remove any excess.
Application: The areas to be treated should be completely dry, clean and free from any dirt or contaminants that could prevent or reduce penetration. Apply vdw 950 StoneProtect Plus 3 in 1 with a suitable brush, roller or low pressure sprayer evenly over the surface to saturation, but avoiding any residual ponding or puddling. Remove any excess with a sponge; this is particularly important on surfaces with uneven absorbency, otherwise localised darkening can occur. Avoid splashes on adjacent materials and remove any spillages immediately with a damp cloth. Suitable PPE should be used, including goggles and gloves etc.
Curing: Protect area's treated with vdw 950 StoneProtect Plus 3 in 1 from moisture and any other dirt or surface contamination for a minimum of 5 hours before access, 24 hours before use (at 20°C/68°F and 65% relative humidity). When completely dry, the treated paving can also be pointed with the appropriate vdw jointing mortar, if this was not completed before the treatment.
This information is intended to give advice based on our testing and experience. We cannot guarantee results in any individual circumstances due to the variety of potential situations and the storage and application conditions for our products which are beyond our control. Specific project testing should be carried out where required. The information on this TDS is subject to amendment and the user must ensure they have the latest information. Our General Conditions of Sale and Supply apply.