Paving Joint Sand Stabiliser
for domestic areas
For stabilising sand filled joints in paved areas with natural stone setts and slabs, concrete blocks and slabs or brick paving etc. Suitable for new and refurbishment use in domestic driveways, entrance areas, patios and pathways, with no commercial use or traffic; and for the repair of cracks in paving joints
Fast, cost effective sand stabilisation
Resistant to brushing out during cleaning and washing out during rainfall
Helps paved surfaces stay clean with reduced penetration from spills or staining from food- stuffs etc.
Water permeable
Temperature stable
Frost resistant
Environmentally friendly
| packaging (Plastic tubs) | item-no. |
| --- | --- |
| 1 litre | 870102.801 |
| 5 litres | 870102.805 |
Application Examples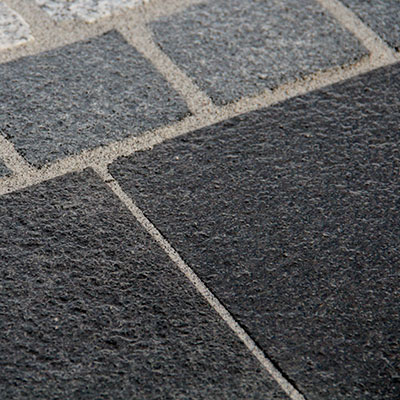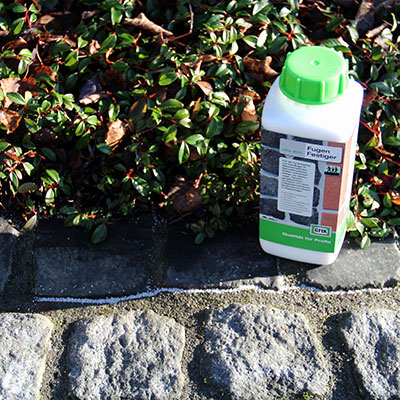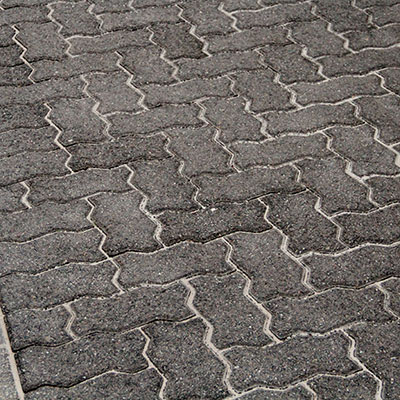 Application
All time specifications in this Technical Data Sheet relate to a temperature of 20°C/68°F and 65% relative humidity. High temperatures will shorten and low temperatures will increase these times.
Consumption:
Approx: 1–2 litres/m2
Consumption is very dependent on a number of different factors including the joint width, joint depth, sand granulometry and sand particle size, stabiliser saturation level, plus the number, size and spacing of the joints. We recommend on larger areas to determine the specific consumption by applying a test area first.
Substrate:
The substrate must be durable, permeable and designed to fully support and accommodate the anticipated traffic and loading.
Bedding: Lay paving stones, blocks or slabs in a suitable bed of sand or chippings. Joints filled with graded sand (0,3–0,8 mm granulometry).
Joints:
– Minimum joint depth: 10 mm
– Joint width: 1 to 5 mm
– Any necessary expansion joints in the paving must be positioned in accordance with the structural requirements.
– Movement joints from the substrate and with adjacent structures must be brought through the paving to the surface.
Preparation:
During application of vdw 870 Paving Joint Sand Stabiliser, visual colour and gloss deepening of the paving can take place. A preliminary test should normally be done (particularly with absorbent natural stone or concrete block paving).
Important Notes:
Clean the jointing area thoroughly, otherwise dirt and any other building residues can also be 'stabilised onto the surface' by vdw 870.
Check the minimum joint depth is maintained and adjust mechanically, or by blowing with compressed air, if necessary.
Tape or cover adjacent areas not being treated.
Chamfers in concrete and brick paving must be brushed out and kept clear.
Material preparation:
vdw 870 is a one-component product, supplied ready-to-use.
If water separates on the surface after extended storage, simply shake or stir to reconstitute the dispersion.
Application:
Aminimumtemperatureof+10°C/50°F (substrate and ambient) is required for application.
Work only in dry conditions and when no rain is forecast for at least 24hours.
Fill the joints with sand (0,3–0,8 mm granulometry).
Sweep the surface thoroughly clean.
Apply vdw 870 Paving Joint Sand Stabiliser evenly over the area with a low pressure spray.
Saturate the joints.
Remove any excess vdw 870 Paving Joint Sand Stabiliser immediately with a hard rubber squeegee and a coconut fibre brush.
Absorb liquid residues with a damp sponge.
Remove the masking tape.
Curing:
The following relates to a temperature of 20°C/68°F and 65% relative humidity (high temperatures shorten and low temperatures lengthen the curing and rain protection period required).
Protect the newly treated areas from all traffic, rain and water for at least 24 hours.
Unlike some solvented sand stabilising solutions, vdw 870 is an environmentally friendly, water dispersed material with no VOC's. However the time required for residual water to evaporate, means that after around 24 hours, only light pedestrian traffic can be accepted, dependent on the temperature and humidity.
The areas are fully serviceable when the vdw 870 Paving Joint Sand Stabiliser is fully cured and dry (at 20°C/68°F this will be after approx. 7 days).
Cleaning the tools
Clean tools and equipment with water and household detergent immediately after use and before the material has dried.

Anyway, please follow our detailed technical hints for the application of our products which are available free of charge. Subject to technical changes. When in doubt, please contact us. Our general conditions of sale apply.