for concrete cobbles and stones with narrow joints
latest generation product
ideally suitable for concrete cobbles and stones with narrow joints.
latest generation product.
Application with very low formation of dust.
suitable for pavers in private and public areas with medium traffic loads.
| colours | Sample | Packaging | Article-No. |
| --- | --- | --- | --- |
| basalt grey | | buckets of 25 kgs | |
Slideshow Application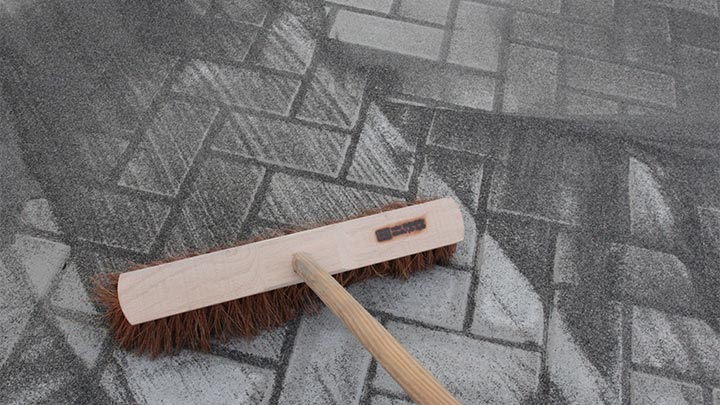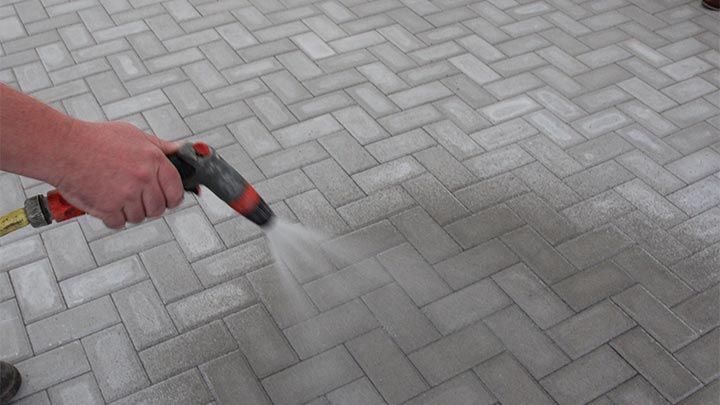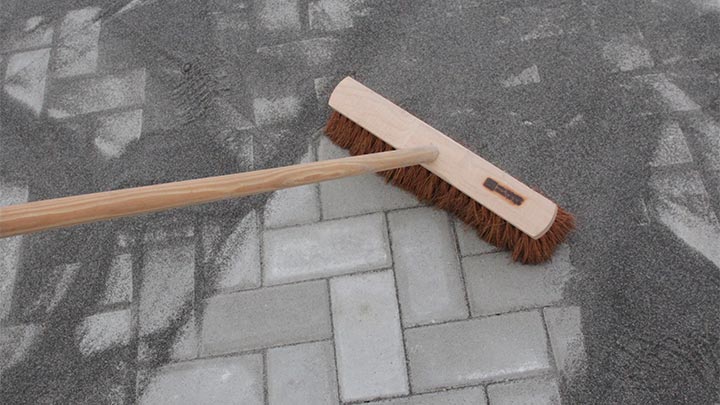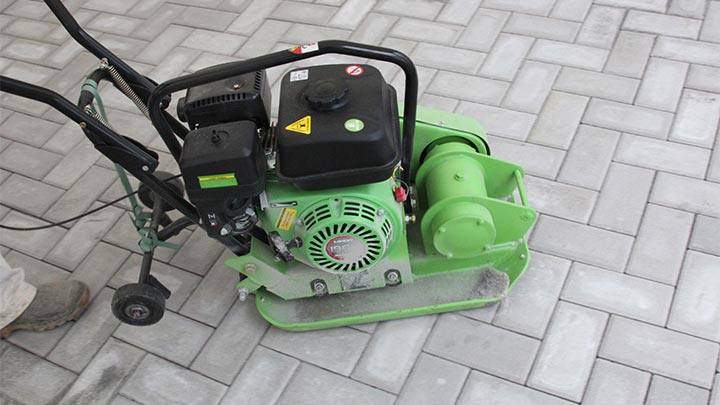 Requirements:
Site requirements: A stable, load-bearing structure and a water permeable sub-base. Joint depth must be at least 40 mm. the joint width at least continuously 2mm up to max. 4 mm. Ambient and substrate temperatures should be min. 8° Celsius, max. 30° Celsius. After installation, a frost free period of at least two days is required (essential).
Test area:
On some concrete stone pavings, the contact with vdw VarioSand can change the optical appearance of the stone (foggy appearance or discolorations). Therefore always apply a test area first!
Tools:
- Coconut fibre brush
- Squeegee
- Big rubber mallet (to be used for areas that cannot be treated with a wacker plate)
- Water supply, a hose with a spray nozzle
- A sponge, if necessary
- Only for new installations: "big" wacker plate (if necessary equipped with screen mat, depending on the type of stones)
- Otherwise: "small" wacker plate (about 60-80 kgs) which is used to compact the jointing material, depending on the type of stones equipped with screen mat, if necessary
Preparation:
Clean the surface of all dirt, cementitous residues, organic materials, or any other contaminants, including cleaning out all of the joints to the required depth. The stone surface as well as the joints themselves must be absolutely dry because otherwise the binder contained in the product will be activated which will lead to contaminations on the stone surface. If necessary, residual moisture may be eliminated by using a gas burner.
Filling the joints:
Brush in the vdw VarioSand until joints are completely filled. Brush off the surface and compact the material by using a small wacker plate (60–80 kgs) equipped with a screen mat. Small areas may be treated with a rubber mallet. Be sure to compact the material thoroughly in order to achieve a solid and durable result. Repeat this procedure until the required filling height is achieved. Test the compression by testing with a finger that the material is firm and solid. Joint should be filled up to max 2 mm beneath the upper surface of the stones, chamfers must be brushed free before activating the binding agent. At last, brush off the surface with a soft, clean and dry brush so that no residues are left.
Activation of the binding agent:
Wet the surface thoroughly with clean water from the tap, using a soft jet of water in small sections, beginning from the lowest point. Repeat this procedure 4-5 times, depending on the joint width until the complete jointing material in its full depth is saturated with water. Avoid washing the VarioSand out of the joints. Do not use a water jet that is too strong (or too close) in order to avoid foaming of the binding agent. Make sure that the surface does not get dry during watering.
Test: Check if the jointing material is completely saturated with water at several points by using a screwdriver or a spatula (just lift the sand and put it back again into the joint after examination). Do not drown the surface and avoid ponding. In case there is standing water on the surface just remove by using a sponge or rubber squeegee.
Post treatment:
The following relates to a temperature of 20 °C / 68 °F and 65 % relative humidity. Higher temperatures will shorten the curing period, lower temperatures will increase it. vdw VarioSand must completely dry in order to achieve a perfect result. For that reason, we strongly recommend to apply the material in dry and sunny weather conditions. Protect the jointed area against rain for at least three hours. (Prolong the protection in case of low temperatures!) Afterwards, remove the rain protection. In case of dry weather, do not cover the surface so that the material may perfectly harden.The finished area must not be driven or walked on directly, the surface is walkable after three hours and may be driven on after three days. The final opening should be after 5 days of curing.